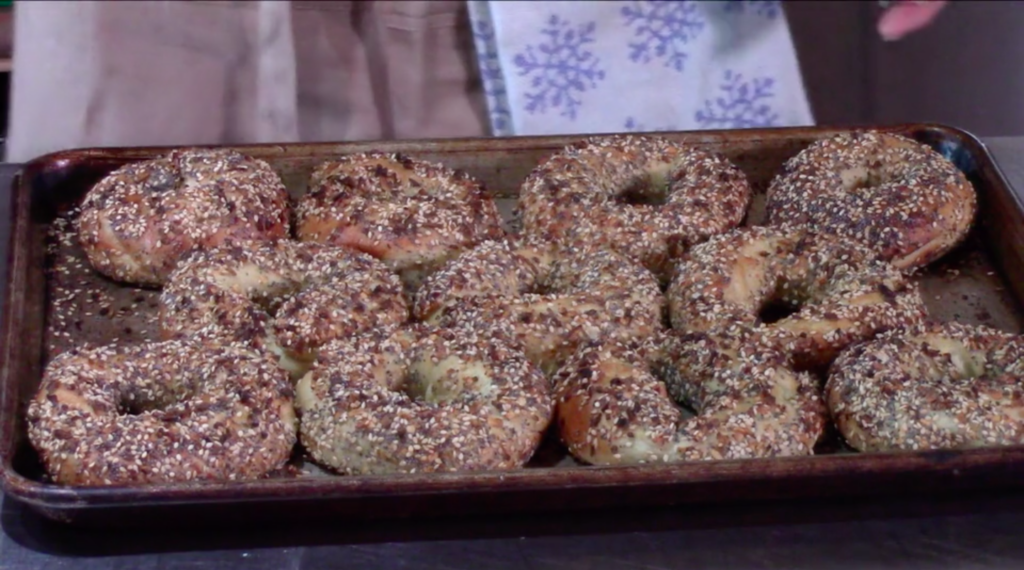 These are the Montreal Style Bagels we bake every week for Suntree Natural Foods in Port Hope and for pick-up at our farm – Thursday to Saturday.
We sell out every week so it's only fair that we share a simplified version of our recipe for those in a pinch.
Makes 12 bagels
Here's the recipe:
1.5 TBSP instant yeast
1 TBSP salt
1/2 TBSP brown sugar
1 1/2 cups warm water (105-110°F)
1/4 cup vegetable oil (56 g)
1/2 cup honey (170 g)
700 g flour (up to 5% gluten flour if desired)
Dissolve yeast, salt and brown sugar in warm water.
Add oil/honey.
Gradually stir flour into wet mixture and blend until consistent (save a bit of flour for the counter knead). The mixture will be sticky.
Scrape mixing bowl contents onto the counter and add remaining flour (and a bit extra if necessary) as you knead the dough. Knead the dough until the texture is consistent, rest for 20 minutes maximum. You can refrigerate the dough up to 24 hours at this point.
Fill a medium pot with water and at least 1/2 cup honey – more if it's a large pot.
Divide the dough into 12 equal pieces (approximately 106g each).
Roll the dough into the bagel shape and boil in honey water for 1 minute.
Allow the bagels to cool slightly on a perforated tray or screen for about two minutes – not too long or they won't be sticky.
Lift each bagel off of the tray and place on the seed (sesame, poppy or all dressed); toss seed on top of the bagel and flip once. Place the bagel on a baking tray. I'll use parchment paper if I'm baking plain bagels.
Bake bagels for 15 minutes at 425°F Convection. This is close to our outdoor wood oven temperature. Rotate the bagel tray half-way through and reduce the time for plain bagels.
Enjoy!