Headwaters Concerts 2021 – Kate Boothman with Special Guest Emilie Mover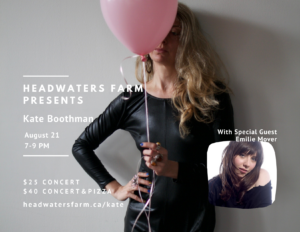 Up Close and Personal

 We're so happy to have Kate back on stage again this year. Hailing from The Ganaraska Forest, horse trainer turned singer/songwriter, Kate Boothman, emerges with her sophomore record, My Next Mistake, on April 20, 2021.
"My Next Mistake gathers the reins after a series of stumbles. Forever knowing that you're bound for glory, but never sure if you'll get there on time." Recorded at producer, Thomas Knox D'Arcy's, Taurus Recording, over 2 snowy weeks in January, 2019, Kate and Thom made what they referred to in the studio as a "massage rock" record. "My Next Mistake is a really relaxing record about sex, drugs and rock'n'roll." Writing as they went, Kate and Thom's life-long friendship enabled them to tuck into their shadows. This provided them with instant fodder for the moody narrative that Kate delivers as part prayer, part animal, and entirely her own.
" Some people write their best songs when they think nobody is listening. This record is full of them. And now I can't stop listening, it's that good."- Kathleen Edwards
" Kate's songs are wonderful. They seem to come from a very real place without any pretension and with melodies that are completely her own."
– Ron Sexsmith
Emilie Mover
Kate has chosen long-time friend Emilie Mover to open the show. Says Now Magazine, "Local songwriter Emilie Mover takes the long view of heartbreak on her fourth solo album and Nevado debut, Mighty Time. But despite the fact that almost every song concerns either heart matters or the passage of time (often both), the resulting record is far from a bummer. Mover's a laid-back, melancholy singer, but the varied arrangements bring out the whimsy in her songwriting: reverby synth-pop brushes up against piano ballads, upbeat pop rock tunes, psychsoul and hints of doo-wop. The album closes with two songs that include a male perspective: a duet with Lefeuvre called Wasted Time and Only Him Or Me, a Townes Van Zandt cover that Mover makes her own."
_________________________________________________________________________________
Tickets: Concerts are $25, or $40 with pizza. Available online via paypal or credit card. (Order tickets below). If you are choosing to pay with cash, please contact us at info@headwatersfarm.ca.
Time: 7-9 pm. If you have ordered pizza, please arrive 30-60 minutes before showtime.
Pizza: Three choices of authentic, Italian, wood-fired pizzas. Pizza quantities are limited so you must order when you purchase your ticket. (Order tickets below)
Arugula and Prosciutto – tomato sauce, prosciutto ham, cheeses, topped with fresh arugula and oregano
Margherita – tomato sauce, slices of mozzarella, sprinkled with fresh basil
Pollo Pesto – pesto sauce, sliced chicken, cherry tomatoes and cheese, and oregano
What to Bring: Lawn chair, refreshments, some cash to spend at the merchandise table and a rain coat if it looks like it might sprinkle. And maybe some bug spray. The concert is timed to end at dusk but bring a flashlight if you think you might need it to find your car!
What Not to Bring: Alcohol, dogs, toddlers or high-heeled shoes.
Also: Parking is free. Lawn chair seating is first come, first served. Washrooms are outdoor composting toilets – no smell and a lovely view. Smoking is allowed in designated areas Please take your cigarette butts home with you.
Cancellation: There are no ticket refunds 72 hours prior to a concert. Headwaters Farm will only cancel if a thunderstorm is imminent on the day or because of Covid-19 restrictions. In those cases only, ticket holders will receive a full refund.