Headwaters Concert 2022 – Abby Zotz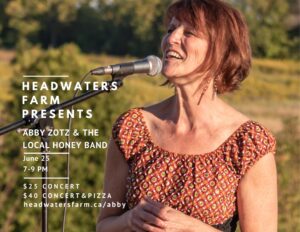 Liquid Honey
Abby Zotz is an artist who refuses to give up hope. Her songwriting and warm, pure vocals coax out small fragments of life, from the struggles of an immigrant family to chasing after peace to sorting out her own personal brand of temper tantrum.. A deeply comfortable and experienced live performer, she is at turns enchanting, funny and touching, deftly moving through a range of musical styles from folk to pop, country, gospel and a touch of blues. Her 2018 release "Local Honey" garnered her the 2018 L.A. Music Critics' Award for Best International Artist.
Abby's crew of sweeties includes Anne Gingras on vocals and percussion, not to mention some pretty fabulous dance moves; and the Saunders boys on stringed things: Papa Chris on banjo and acoustic, weissenborn and slide guitars; and loving son Joel, on bass and his award winning finger-style guitar. They will be joined by Abby's long-time writing partner, the über-witty Bryan Williston on vox, guitar, harmonica…and maybe even a banjo uke if we're lucky! They're looking forward to bringing a little sonic summer sunshine back to the Headwaters stage.
"One of Canada's most cheerful and down to earth songwriters."- Skope Magazine
https://abbyzmusic.com
https://www.youtube.com/channel/UCU1Pg_pFpyqeQXbLRz54kRQ
__________________________________________________________________________
Tickets: Concerts are $25, or $40 with pizza. Available online via paypal or credit card. Tickets available at the door if numbers permit. Max 150.  Pizzas are pre-sold only! Order tickets below.
Date/Time: June 25, 7-9 pm. If you have ordered pizza or want to indulge in the sweets and drinks table (cash only), please arrive 30-60 minutes before showtime.
Pizza: Three choices of authentic, Italian, wood-fired pizzas. Pizza quantities are limited so you must order when you purchase your ticket. Order tickets below.
Arugula and Prosciutto – tomato sauce, prosciutto ham, shaved mozzarella, topped with fresh arugula and oregano
Margherita – tomato sauce, slices of mozzarella, sprinkled with fresh basil
Pollo Pesto – pesto sauce, sliced chicken, cherry tomatoes, shaved cheese, and oregano
What to Bring: Lawn chair, refreshments, some cash to spend at the merchandise tables and a rain coat if it looks like it might sprinkle. The concert is timed to end at dusk but bring a flashlight if you think you might need it to find your car!
What Not to Bring: Alcohol, dogs, toddlers or high-heeled shoes.
Also: Parking is free. Lawn chair seating is first come, first served. Washrooms are outdoor composting toilets – no smell and a lovely view. Smoking is allowed in designated areas Please take your cigarette butts home with you.
Cancellation: There are no ticket refunds 72 hours prior to a concert. Headwaters Farm will only cancel if a thunderstorm is imminent on the day and ticket holders will receive a full refund.
Tickets: