Headwaters Concert 2021 – Bob Miller with Meghan, Saskia and Steafan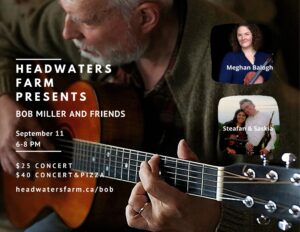 Homegrown Folk
We welcome Bob Miller to the Headwaters stage for the first time to celebrate the launch of his debut album "Homegrown".  Bob is a musician and guitar maker from Sharbot Lake, Ontario. Bob got his musical start as part of the folk music scene in Toronto in the 1970s, and he's been honing his musical skills and instrument-making abilities since.
Bob's unique finger-picking style on guitar and warm vocals allow him to make familiar traditional songs his own. He performs on instruments that he has hand made himself over the past 40 years.
In February 2021, Bob released "Homegrown" featuring 17 tracks of traditional and original folk music and tunes. Produced by world-class multi-instrumentalist and sound engineer Steafan Hannigan, the album features Kaitlin and Meghan Balogh on fiddles, Steafan on more than a dozen instruments and Saskia Tomkins on nickelharpa and fiddle.
Meghan Balogh's beginnings in classical music quickly turned into a love for traditional Irish fiddle tunes and folk music, in large part thanks to her lifelong friendship with Bob Miller and his family. She has been involved in Irish music in the Kingston area for 15 years, and plays with a number of musicians and bands in the region, including as a founding member of the Prince Edward County-based Celtic folk band, Seventh Town, and the Kingston traditional Irish music trio, No Great Mischief.
Multi-talented duo Saskia Tomkins and Steafan Hannigan live in Cobourg and are well-known in Northumberland as well as afar.  They play a multitude of instruments including violin, fiddle, nickelharpa, and bagpipes. After 22 years of playing together and working as session musicians, S&S released their first duo album in 2017 called "Moorchild". Artists they have played or recorded with include: Uriah Heep, Loreena Mckennit, Bjork, Depeche Mode, The Band of Hope, SinE, Afro-Celt Sound System, Oliver Schroer, David Newland, Kim Doolittle,  Jimmy Bowskill, The Chieftains,  Tim Edey, Tim Garland, Robb Johnson, Sonja Kristina (Curved Air), Ron Korb, James McKenty, Crispian Mills (Kula Shaker), Donald Quan, Ted Staunton, Sultans of String, Miranda Sykes, Lotus Wight (Sam Allison), Ken Whiteley, and Astrid Young.
__________________________________________________________________________
Tickets: Concerts are $25, or $40 with pizza. Available online via paypal or credit card. (Order tickets below). If you are choosing to pay with cash, please contact us at info@headwatersfarm.ca.
Time: 6-8 pm. If you have ordered pizza, please arrive 30-60 minutes before showtime.
Pizza: Three choices of authentic, Italian, wood-fired pizzas. Pizza quantities are limited so you must order when you purchase your ticket. (Order tickets below)
Arugula and Prosciutto – tomato sauce, prosciutto ham, cheeses, topped with fresh arugula and oregano
Margherita – tomato sauce, slices of mozzarella, sprinkled with fresh basil
Pollo Pesto – pesto sauce, sliced chicken, cherry tomatoes and cheese, and oregano
What to Bring: Lawn chair, refreshments, some cash to spend at the merchandise table and a rain coat if it looks like it might sprinkle. And maybe some bug spray. The concert is timed to end at dusk but bring a flashlight if you think you might need it to find your car!
What Not to Bring: Alcohol, dogs, toddlers or high-heeled shoes.
Also: Parking is free. Lawn chair seating is first come, first served. Washrooms are outdoor composting toilets – no smell and a lovely view. Smoking is allowed in designated areas Please take your cigarette butts home with you.
Cancellation: There are no ticket refunds 72 hours prior to a concert. Headwaters Farm will only cancel if a thunderstorm is imminent on the day or because of Covid-19 restrictions. In those cases only, ticket holders will receive a full refund.
Tickets:
Scroll To Top