Headwaters Concerts 2021 – Ted Staunton and Friends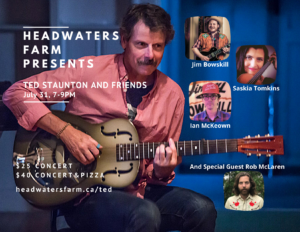 DUE TO THE WEATHER, TED'S CONCERT HAS BEEN MOVED TO MONDAY, AUGUST 2 FROM 7-9PM. PLEASE COME IF YOU CAN TO SUPPORT THE BAND. THEY WERE SO LOOKING FORWARD TO SEEING YOU ALL!
YOU ARE ENTITLED TO A FULL REFUND IF YOU WOULD LIKE. PLEASE CONTACT LINDA AT linda.armstrong@mac.com or 289-829-0343.
They're back!
Ted Staunton and Friends is a musical tradition at Headwaters. And this year we are happy to have them kick-off our 2021 Concert Series! Saskia Tomkins, Ian McKeown, and Jim Bowskill are among the cream of Northumberland's musicians, and when they get together with singer/songwriter Ted, it's a chance to brew up a heady mix of rootsy original music with blues, old-time jug tunes and some rocking out in there as well. They will be joined by special guest Rob McLaren, lead guitarist and multi-instrumentalist for Union Duke, for a full-band sound that will be more dynamic than ever.
This year is extra exciting for everyone. Not only is this a return to (YAY!) playing live, but Ted, Saskia, Ian and Jim have been recording an album of Ted's songs that will soon be ready to share. They're eager to debut some new tunes and great new arrangements of faves from before.
_________________________________________________________________________________
Tickets: Concerts are $25, or $40 with pizza. Available online via paypal or credit card. (Order tickets below). If you are choosing to pay with cash, please contact us at info@headwatersfarm.ca.
Time: 7-9 pm. If you have ordered pizza, please arrive 30-60 minutes before showtime.
Pizza: Three choices of authentic, Italian, wood-fired pizzas. Pizza quantities are limited so you must order when you purchase your ticket. (Order tickets below)
Arugula and Prosciutto – tomato sauce, prosciutto ham, cheeses, topped with fresh arugula and oregano
Margherita – tomato sauce, slices of mozzarella, sprinkled with fresh basil
Pollo Pesto – pesto sauce, sliced chicken, cherry tomatoes and cheese, and oregano
What to Bring: Lawn chair, refreshments, some cash to spend at the merchandise table and a rain coat if it looks like it might sprinkle. And maybe some bug spray. The concert is timed to end at dusk but bring a flashlight if you think you might need it to find your car!
What Not to Bring: Alcohol, dogs, toddlers or high-heeled shoes.
Also: Parking is free. Lawn chair seating is first come, first served. Washrooms are outdoor composting toilets – no smell and a lovely view. Smoking is allowed in designated areas Please take your cigarette butts home with you.
Cancellation: There are no ticket refunds 72 hours prior to a concert. Headwaters Farm will only cancel if a thunderstorm is imminent on the day or because of Covid-19 restrictions. In those cases only, ticket holders will receive a full refund.
Tickets: