Headwaters Concert 2022 – Greatest of Ease/Bad Holiday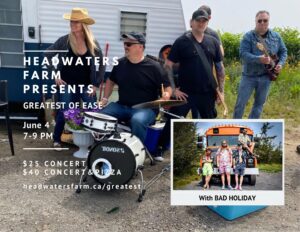 Come Fly Through the Air With…
Greatest Of Ease brings songs of life, songs of one sided truth, and songs of love and living. They've been called rock, country, and alternative. The truth is a bit of all three. With songs that will make you dance, clap along and a few known covers thrown in the mix, it's always a good time. GOE is made up of Port Hope/Cobourg musicians Stacy Doherty on guitar and vocals, Michael Hepburn on bass and vocals, Travis Watts on drums and vocals, and Jennifer Duval on keys, harmonica and vocals.
The band formed in mid 2016 in the midst of life changes for a couple of members. Stacy had written and recorded a song titled Algonquin Black Water in late 2014 with a friend and had some regional success that resulted in a string of live shows and led to the formation of GOE. Mike and Stacy had were in the alternative band Fishbelly White in the 1990's and early 2000's while Travis played with Pose The Worm. Collectively, they have shared the stage with many of Canada's greats over the years. Jen joined the band during the early days of Covid, so many have yet to hear GOE in this form, but it will be well worth the wait!
Greatest Of Ease is putting the finishing touches on new music, with the single Please, See Me slated for a late spring release. We can't wait for the summer season to play for everyone again.
More Than This (Partially shot at Headwaters)
Our music can be found on most major streaming sites.
Bad Holiday:
The only thing better than a good vacation.. is a Bad Holiday! We were introduced to this high-energy band through Eric and Donna Schurman of Port Hope. You may have seen their son Ryan Schurman play at Headwaters live as the drummer and partner of the lovely chanteuse Mimi O-Bonsawin. Ryan returns with his Toronto powerhouse Rock N Roll band. Fuelled Pop, Punk, and Party Rock Anthems, Bad Holiday is ready to make you believe in rock music once again. After releasing their debut album "Nineteen" in 2020, their lead single "Pretty Lady" instantly caught the attention of legendary radio host "Alan Cross," as well as the interest of Canadian musician "Bif Naked", who has been encouraging them ever since.
Recently they were also recognized by former Much Music icon Ed The Sock, who featured Bad Holiday on "New Music Nation". Their single "19" was nominated for "Best Rock Music Video" of 2020 at The Independent Music Video Awards. Bad Holiday is now hard at work in the studio, ready to bring you their second studio album. Recently releasing their new single "Island" that was picked up on commercial radio 97.7 HTZ-FM & Alan Cross "Ongoing History Of New Music"
_________________________________________________________________________
Tickets: Concerts are $25, or $40 with pizza. Available online via paypal or credit card. Tickets available at the door if numbers permit. Max 150.  Pizzas are pre-sold only! Order tickets below.
Date/Time: June 4, 7-9 pm. If you have ordered pizza or want to indulge in the sweets and drinks table (cash only), please arrive 30-60 minutes before showtime.
Pizza: Three choices of authentic, Italian, wood-fired pizzas. Pizza quantities are limited so you must order when you purchase your ticket. Order tickets below.
Arugula and Prosciutto – tomato sauce, prosciutto ham, shaved mozzarella, topped with fresh arugula and oregano
Margherita – tomato sauce, slices of mozzarella, sprinkled with fresh basil
Pollo Pesto – pesto sauce, sliced chicken, cherry tomatoes, shaved cheese, and oregano
What to Bring: Lawn chair, refreshments, some cash to spend at the merchandise tables and a rain coat if it looks like it might sprinkle. The concert is timed to end at dusk but bring a flashlight if you think you might need it to find your car!
What Not to Bring: Alcohol, dogs, toddlers or high-heeled shoes.
Also: Parking is free. Lawn chair seating is first come, first served. Washrooms are outdoor composting toilets – no smell and a lovely view. Smoking is allowed in designated areas Please take your cigarette butts home with you.
Cancellation: There are no ticket refunds 72 hours prior to a concert. Headwaters Farm will only cancel if a thunderstorm is imminent on the day and ticket holders will receive a full refund.